Acupuncture & Chinese Medicine
Chinese Medicine: It's Not Just Acupuncture
Oriental medicine is a very broad and complete system of holistic health care. Acupuncture is the most famous technique, but when you bring your health care needs to our offices, we apply this complete system of medicine to make sure that you gain the most from your treatments.
Acupuncture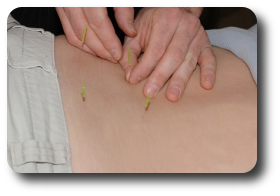 Acupuncture is the technique of inserting thin, metal needles into specific points on the body for therapeutic effect. It has a long lineage of use in China, with references to its practice dating back over 2500 years. These points are arranged in lines and patterns on the surface of the body, following energetic pathways of Qi (also rendered as Chi or Ki). These pathways are called Meridians or Channels (Mai in Chinese). Acupuncture points, though located on the surface of the body, connect to deep patterns of Qi within the body. Through insertion and manipulation of acupuncture needles, an art form in itself, disharmonies in the flow of Qi may be influenced and changed. We only use disposable needles in our practice, so that you can be assured of getting brand new, prepackaged and sterile needles each time.
Cupping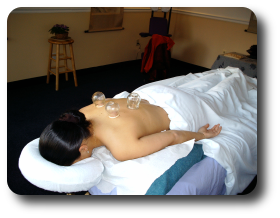 Cupping is the technique of using brief heat to create a vacuum in a glass cup and placing the cup over acupuncture points. The suction created by the cooling air within the cup creates a "pulling" effect, said in Chinese medicine to extract Wind and Dampness. Cups are also used to break up stagnation of energy, and to treat sports and accident related soft tissue injuries. Patients have told us that cupping is a like "getting a massage backwards."
Tui Na Massage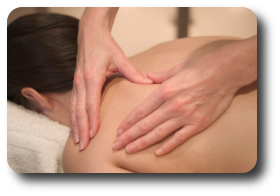 Tui Na is a Chinese system of massage and physical therapy. Using many of the basic principles of acupuncture, combined with modern knowledge of body mechanics, Tui Na is used extensively in China for the treatment of injuries. It is also used frequently with athletes for injury recovery. Martial artists, gymnasts, dancers and others engage in activities requiring extreme flexibility especially benefit from acupuncture and Tui Na.
Moxibustion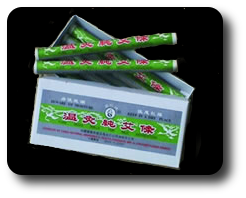 Moxibustion is the process of burning an herb over specific acupuncture points and channels, or over a needle inserted in an acupuncture point. It is an art and science in itself, brought to its heights in Korea and Japan. You are not burned in this process and most people find moxibustion very warming and relaxing. Many people do this for themselves at home, supporting their treatments between visits. In fact, in some cases there are points you can moxa at home to support your treatments. Don't be surprised if you're sent home with a moxa stick.
What Can Be Treated With Traditional Chinese Medicine?
Acupuncture and Oriental medicine is best known as an effective treatment for pain, but it is actually an entire professional system of healthcare and can treat a wide range of chronic and acute health conditions including, but not limited to:
| | |
| --- | --- |
| Addictions | Fatigue |
| Allergies | Fibromyalgia |
| Arthritis | Flu |
| Asthma | Headaches |
| Back Pain | Hypertension |
| Carpal Tunnel | Immune Disorderes |
| Chemotherapy Nausea | Insomnia |
| Chronic Pain | Joint Pain |
| Colds | Menopause |
| Depression | Muscle Pain |
| Digestive Problems | PMS |
| Ear Problems | Urinary Problems |
Based on research and clinical experience, the U.S. National Institutes of Health (NIH) and the World Health Organization (WHO) have declared acupuncture effective for these and more than 200 other conditions:
Circulatory disorders — Hypertension, palpitations, heart disease
Disorders of the bones, muscles, and joints — Headaches, low back pain, neck and shoulder pain, joint pains, injuries, numbness and tingling, muscular aches and pains, osteoarthritis
Disorders of the nervous system– Multiple sclerosis, post-stroke conditions
Emotional and psychological disorders –Depression, anxiety
Gastrointestinal disorders–Indigestion, pain, nausea/vomiting, diarrhea constipation, eating disorders
Gynecological disorders– Irregular, heavy, or painful menstruation, premenstrual syndrome, menopausal problems, fertility issues
Immune disorders–Chronic fatigue, HIV/AIDS
Pregnancy-related complaints–Morning sickness, edema, fatigue
Respiratory disorders–Chronic colds, coughs, asthma, allergies
Sleep and stress disorders–Nervous tension, insomnia, low energy
Urogenital disorders–Urinary tract problems, sexual dysfunction
You can learn more by visiting The NIH's MedlinePlus: Acupuncture
© Copyright 2007, Norman Kraft, L.Ac. The above text is extracted from Frequently Asked Questions about Oriental Medicine by Norman Kraft, L.Ac. and it is copyrighted material. All rights reserved.
Jeanie Mossa M.S., L.Ac. Acupuncture & Oriental Medicine 703-299-0500
Old Town, Alexandria VA 22314
jeanie@acupunk.rocks